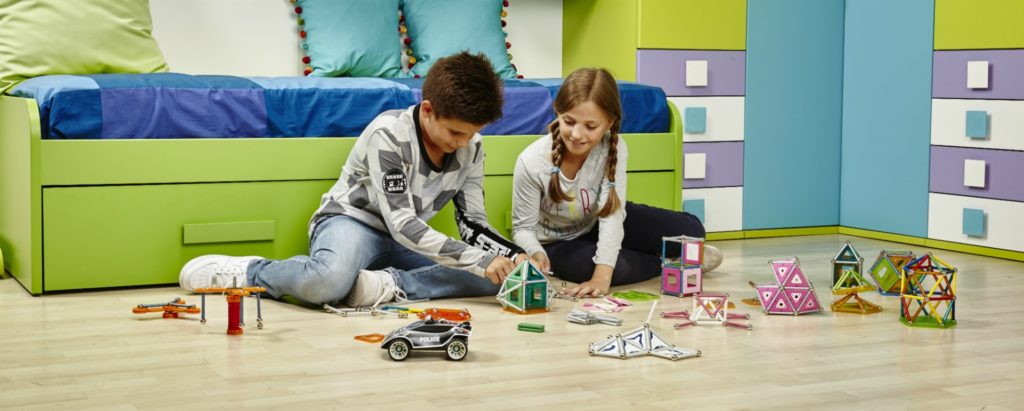 What is Geomag?
Geomag is a unique Swiss design kit that allows, thanks to a simple building system ,to create a plethora of patterns, shapes and objects whose diversity is limited only by your imagination. Wondering what Geomag Can? Visit our gallery !
The basic building blocks of Geomag kits are magnetic rods with plastic or phosphor coating and the steel balls with a diameter of 12.7 mm. In addition to sticks and balls we also have baseplates and separating plastic panels .
Endless possibilities of use
Geomag in a playful way allow children and adults, an insight into the mysteries of magnetism, the laws of physics, chemical structures, geometric shapes and architecture. It promotes creativity, imagination, fine motor skills and combination skills. And so it is often used in schools as a teaching aid attractive .
Geomag addition fascinates lovers of games and toys, it serves as a means of relaxation and tasteful interior accessory office or apartment.
Entertain your kids for hours in the Construction Geomag !
Designers Geomag enchant both children and adults. If you are interested in how Geomag was read the history .
What is unique Geomag kit?
Swiss precision.The original Geomag is produced in very severe conditions. And so it is within allowable deviation only in the order of a hundredth of a millimeter.
Possibilities of use.Geomag is no ordinary toy. It is also used as a teaching aid in geometry, physics and natural science, elegant and attractive decorations ,and even as a therapeutic tool with its magnetism.
A simple system.Only three pieces (balls, sticks, panels) constitute the entire ingenious system kit Geomag. This gives you maximum simplicity and variability.
How to deal with false Geomag kit ?
Geomag kit right at the first sight ha Solid, nickel-plated beads of high magnetic steel ,tightly fitting precisely molded magnetic rods covered with a rigid plastic coating with the inscription "Geomag".
No tawdry imitation can replace the enjoyment of the game with the right Geomag . Only Genuine Swiss Geomag kit is able to develop sufficient strength to hold together as well as construct large and complex buildings.
Swiss Geomag kit has excellent resistance to wear and its absolute wholesomeness is confirmed by numerous certificates and accreditations . Production takes place in the spirit of the famous Swiss diligence and in accordance with the highest international quality and safety criteria.
Do not buy cheap and low quality imitations..
Buy GEOMAG and Treat yourself and your children with a really good toy!
Geomag kits are among the world's most respected toy and is the recipient of numerous awards . Convince yourself that Geomag kit is popular among children and adults worldwide.
"Easy handling, material and nice colors stimulates children's creativity, allowing for the development of fine motor skills, imagination, fantasy and orientation in plane and space." Mgr. Lenka Hejduková
Director kindergarten Zámrsk If you are looking for a toy that a child (and in the case of Geomag kits often adult) get entertained for hours , while developing his abilities and skills , for you Geomag is exactly right choice .Look at our offer and remember that the kit Geomag can conjure anything.
About
How did it all begin? A little boy named Claudio Vincentelli from childhood was fascinated by physics – mainly mechanics and relationships between objects. In addition, he liked to draw, silhouetted, was interested in architecture and design. No wonder that later studied mechanics in the university.
When the study began working for a company engaged in the design of magnetic devices . This experience, he became fatal – it is gradually began to mature idea for a toy for children using the laws of magnetism. After ten years of intensive thinking and attempts associated with magnets bricks came the idea that Claudio Vincentelli describes as follows:
" It was like a bolt from the blue! Suddenly it occurred to me that it was a combination of magnetic bars and steel balls allow enormous creative freedom. Thanks to his experience, but I knew that the system kit must be extremely strong and hard to prove even harder to hold together the structure. Immediately I had to get some steel balls. After several attempts, I finally found the solution. The strength of the handle was beyond my expectations. System for future Geomag kit was born. "
From Switzerland to the whole world
Since the invention of Geomag year 1998 passed still a long way before it was founded in 2003 by the Swiss company Geomag . The company Geomag now based in Switzerland Rancate, but its branches can be found all over the world – from the United States and Australia. Despite the relatively short period of its existence could kits Geomag toy conquer the world and managed to get a number of prestigious awards .
Spheria Distributions is the Exclusive distributor and importer of Geomag kits to the India and sell only genuine Swiss construction Geomag . Remember that the true construction Geomag is protected by several patents and is the proud recipient of many certifications and safety tests that showed her sheer wholesomeness.
Do not risk your health and buy only original kit Geomag.